I am excited to announce that the University today completed the purchase of the Ames building at 1 Court St., and we are now officially its owner.
This is a great opportunity for Suffolk and an important investment in our future. As you know, expanding our permanent residence hall capacity is a major physical campus initiative called for in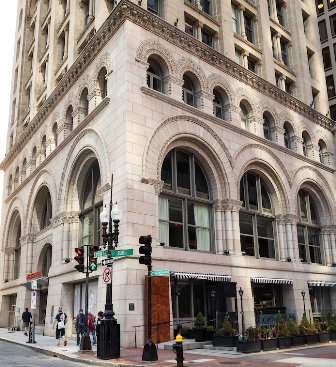 the Suffolk 2025 strategic plan. Successful permitting of the building will allow us to open a new Suffolk University residence hall in the heart of our core downtown campus at the start of the fall 2020 semester.
There is still important work ahead. Closing on the sale of the property allows us to begin the rigorous city review process necessary to permit the building for use as a residence hall, a process that will involve significant input from the Boston community.
The opportunities that our students gain while living, studying, and working within our downtown Boston campus are exceptional. Expanding campus housing in this location will further facilitate this commitment both for the students who will live in the building and for all of us in terms of increased gathering space and the opportunity to launch new or expanded partnerships with our neighbors.
Built in 1893, the building at 1 Court St. was the first skyscraper in Boston and the city's tallest building until 1915. Continuing with a newer Suffolk theme, it is thought to be the first commercial building in Boston to use an elevator (yes, as I always say, what a great way to meet people!). And most importantly, it is just steps from the Old State House, City Hall, the financial district, and within several blocks of key University buildings. It will become another centerpiece of our campus, helping to further solidify our borderless community within the center of Boston.
John Nucci, senior vice president for External Affairs, and his team are leading the critical permitting and community engagement process. Student Affairs and the University Space Committee will engage in consideration of specific building use (for example, shall we house first year students in the building, or sophomores; how might we use certain areas within the building to address other campus space needs). And Director of Facilities Ashley Lindsey will lead a group to address logistical issues.
Again, all of this work will take place in the coming weeks and months, and it will require contributions from many members of our community. I hope the entire community will enjoy knowing that in a year many of our students are going to have an exciting new location to call their home away from home, one that is right in the center of so much that Boston and Suffolk have to offer.

Marisa J. Kelly
President