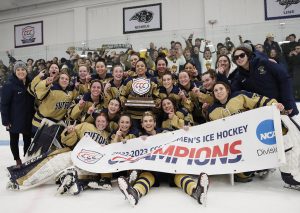 Last Saturday night I witnessed something incredible. The Suffolk Women's Ice Hockey team, a program that is just five years old, beat Endicott College in an edge-of your-seat, nail-biting barn burner to win the Commonwealth Coast Conference 2023 championship—the first CCC championship in program history.
Our student-athletes were amazing, with fabulous players in every position. Suffolk goalie Lily O'Neil stood on her head, as they say, stopping 40 Endicott shots. The final score, Rams 2, Gulls 1.
A shout out as well to Head Coach Taylor Wasylk, who has built this program from the start, and to her outstanding coaching staff.
Next stop: Middlebury, Vermont. We are now one of only 11 teams in the country to advance to the NCAA Division III playoffs, and will play defending national champion Middlebury on their home ice tonight, Wednesday, March 8.  The Suffolk Rams are up to the challenge! And I am looking forward to being there to cheer them on.
But no matter the outcome of tonight's game, it is hard to imagine anything surpassing the experience of being rinkside for the CCC championship. The Suffolk Rams were so much fun to watch. So were the fans. The bleachers at Porrazzo Memorial Skating Rink, our ice hockey home in East Boston, were filled with a cheering crowd of students, staff, faculty, and families. Ram fans roared with each Suffolk goal. And with every clutch save by O'Neil they chanted "MVP." Many of us stood behind the plexiglass along the rink, pounding our feet, cheering, and congratulating our players as they came off the ice between periods.
I expect more of the same at a Student Government Association-sponsored watch party this evening at 7 p.m. in the Sawyer Building first floor lobby. Free pizza, wings, and T-shirts. Come cheer the Rams on.
And please join me in congratulating the Suffolk Women's Ice Hockey team on an amazing season and all they have accomplished. Go Rams!